FAQs - Frequently Asked Questions
Your t-shirt quilt is custom-designed to best showcase YOUR t-shirts!

We will:
supply the borders, sashing, backing and binding using the highest quality 100% cotton fabric.
use the highest quality thread
apply high quality 100% cotton stabilizing interfacing to each block (not that stiff stuff).
use the highest quality cotton/poly blend batting
quilt it on a longarm quilting machine by a Professional Longarm with an all-over quilting design.
For a small additional fee, will provide optional label and/or hanging sleeve on the back of your quilt.
.
We can usually have your T-shirt quilt ready to return to you in approximately 4 weeks after we receive your shirts. At certain high volume times of the year, such as Christmas and Graduation, our "turn-around" time may be longer.
We will include deadlines on this web site when appropriate. If you need your quilt by a certain date, please let us know when ordering. Rush delivery is available for an additional cost. If you need a quilt for a special occasion such as an anniversary, graduation, Christmas, etc. please allow plenty of time so that you won't be disappointed.
While we have hundreds of patterns, these are the most popular options for quiting a t-shirt quilt with an overall pleasing effect.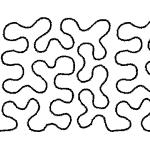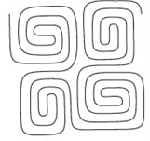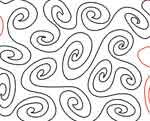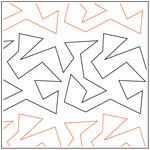 Meander/ Cinn Swirls Yodel Saturn Swirls Zig Zag
Crazy Puzzle
We will pick the color of fabric that best compliments the t-shirts used. However, if you have a certain color scheme you wish to have, just let us know and we will do our best to accommodate you. If you would like to provide your own fabric (i.e. themed fabric) contact us for quantity needed.


If you are in the Northwest Houston area, you are more than welcome to visit our studio and make your fabric choices from the hundreds of bolts in stock. We don't use solid color fabrics. There are several reasons for this (lint, pet hair, and life in general). We use Tone-On-Tone fabrics which from a distance look like a solid, but up close reveal a great deal of texture.
The cost of the quilt is based on the size and number of t-shirts used. Please see our pricing chart on the Pricing Table page. Price for basic quilt is all inclusive with no hidden costs.
The shirts should be laundered before being sent to us (including brand new shirts). Just remember that stains on the shirts will show on the quilt. Stains are NOT necessarily a bad thing. Usually, that just means that the shirt was well loved. Please send the shirts intact and we will cut the graphic out making sure that the graphic is centered as much as possible.
If front and back of a shirt are to be used, please make a note and attach it ("sticky notes" sometimes come off during shipping!) to the shirt. Painters Tape or Masking Tape works best and is easiest for us to work with. Each graphic will count as one block (i.e., if a shirt has graphics on both the front and back that will represent two blocks, it will count as 2 blocks). Also, don't forget about the smaller graphics on the pockets and sleeves. We can combine several of them together to make one block.**
**Additional charges apply.
Yes! We can include one or more photos in your quilt.
However, we no longer print the photos on fabric, instead we submit the photo to VistaPrint, and have them print it on the shirt. If you have more than one photo, just have them print it on the backside of the shirt!
No extra charge if you take care of everything. Just have them ship the finished shirts to us. $25 additional charge per block for us to order the shirts.
More information on adding photos to a quilt.
We can combine any number of smaller graphics to make one block. Please indicate clearly which graphics you desire to have combined, and in what order if you have a preference. We have used as few as two and as many as nine total graphics in one block. There is a $10 charge per block for combines.
Each quilt includes batting and is quilted all-over, for stability and asthetics. We are one of the few t-shirt quilt companies that provides PROFESSIONAL quality quilting. Many just stich the front and back together at the corners of each shirt, just around the edges or randomly on each shirt for a mish mash quilted look.
ALL of our quilts are quilted with PROFESSIONAL quality quilting is a very important feature that makes a t-shirt quilt last. This is a REAL quilt and you can expect it to last a lifetime.
Yes, we can either add strips of other fabric around smaller pieces or applique the smaller pieces onto squares of fabric. There is an extra charge for this depending on complexity of work needed to make it work. We have done everything from baby bibs and baby outfits to hundreds of Girl Scout badges!** It never hurts to ask, and we've probably already tried it at least once. If it is not a good idea, we'll let you know.
**Additional charges apply.
Yes, we can take your pieces of t-shirts etc. and turn them into a quilt for you. It may cost a little more depending on how the shirts are cut, but we have yet to see a project we couldn't finish.
Oops! Well, that is OK, let us take a look. If the shirts are cut too small for the 14 inch blocks, then there a couple of options. We can try for 12 inch blocks (recomended for childrens clothing) or we add fabric to enlarge the blocks. **
**Additional charges apply.

More information on adding photos to a quilt.
Yes, we can take your neckties and applique them to the blocks in the quilt. You might want to use one his dress shirts as the background (instead of a t-shirt). Check out our Memory Quilts where we use all sorts of clothing from ties, work shirts, jackets and nightgowns.