Frameless/No Sashing Quilts - Part 3

November 24, 2016
T-Shirt Quilt Styles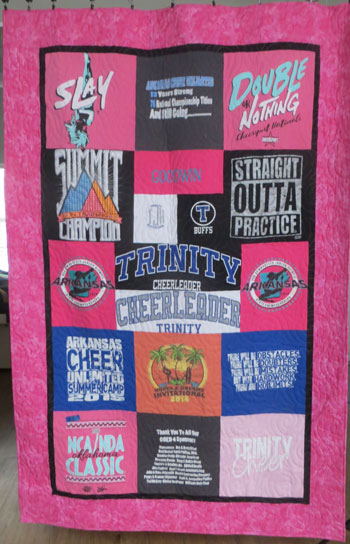 Our Frameless/No Sashing quilt is the most economical version tshirt quilt we offer. All of the tee shirts are still backed with a 100% cotton stabilizer, and use the same quilt shop high quality fabrics for the back and borders.
The quilts are still based on a grid layout, but we do accommodate larger images when needed. We can still combine smaller logo sized images to make a larger block. Since our pricing is based on a 'per block' basis, we charge an 'additional seam' or 'combine' charge instead of the full block price for each shirt.

The quilt on the right shows:
generous outer border
optional accent border*
block made up of 3 smaller logos*
oversized blocks.
professional machine quilting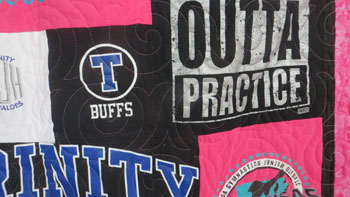 Quilt Options*
Flannel Backing
Optional Accent Border
Embroidery
Label
Hanging Tabs
One or Two Fabric choices
* Available for an additional cost

Still the same high quality, with no shortcuts.
More Quilt Style & Price Options:
Premier/Standard > Basic > Frameless/Economy > Memory Quilts