We've had a number of requests for a simpler quilt design that more directly compares to our lower-priced competition. If you prefer that simple look, just specify the "Basic" option for /block. Like all of our T-Shirt quilts, the price is all-inclusive. But unlike our competition, you get a full 6" outer border around the entire quilt instead of the typical 2 or 3 inches! Please note that the optional accent border is NOT available on this option.
Cornerstones CAN be the same color as the sashing for a totally differnt look for no additional charge.
Each square finishes at approximately 14". You can specify a different size to make the quilt fit your specifications. Smaller sized t-shirts will result in smaller sized squares. By the same token, larger squares will result in a larger quilt. If you have an over-abundance of tshirts, maybe go to a smaller sized block, and small sized sashing. If you have several large image shirts, make a note on the order form, and we will do our best to adjust for those sizes when making your quilt.
Some of the most common sizes are listed below.
For a more 'visual' pricing table showing sizes, pricing, number of shirts and so on.
Number of
Blocks
Approximate
Quilt Size
Standard


Standard
Base
Price

Basic
Base
Price
No Sashing
Base
Price
9
62" x 62"
$
$
$
12
62" x 78"
$
$
$
15
62" x 94"
$
$
$
16
78" x 78"
$
$
$
20
78" x 94"
$
$
$
25
94" x 94"
$
$
$
30
94" x 110"
$
$
$
36
110" x 110"
$
$
$
42
110" x 126"
$
$
$
Quilt Types
Standard T-Shirt Quilt - The base price per T-Shirt block is . This is what you will receive unless you specify otherwise.
Basic T-Shirt Quilt - The base price per T-Shirt block is . Only has one border. Accent border is not an option.
Frameless/No-Sashing T-Shirt Quilt - Base price is based on per block. No sashing or cornerstones. Accent border is an option.
Memory Quilts - Quilts made from non-tshirt clothing.
Other Details
Any details that we may have talked about on the phone or via email should be noted on the order form. You are welcome to email the layout of the tshirts, but please note that on the form.
Combines - There is an extra charge per block for 'simple' additional seams. A 'Simple seam' is one additional seam in the block. These include:
combining of 2 shirts (or a front and back) to make one block
combining small logos from different T-shirts to make one block
adding fabric behind v-neck (such as a Football Jersey)
Complex piecing. When more than one seam is involved, or creating a block out of odd shaped items, it requires more time to piece the block.

Minimum of additional charge on these. These can include but are not limited to:
enlarging a tanktop into a larger block
shorts
sleeves
Return Shipping for one quilt will be via USPS Priority mail and will be up to * per T-Shirt quilt. UPS or other shipping carriers are available for an additional charge.
* for quilts being returned in the state of Texas.
Sales tax is charged for quilts going to any Texas address. If you are a non-profit organization, we can omit the sales tax with an authorized Tax ID form on file.
Deposit - A $100 down payment is required for each quilt and can be made by cash, check*, credit card or through PayPal.
When your T-Shirt quilt(s) are complete, we will send an email requesting the final balance including the shipping** charge. If you pay by check, please allow up to 10 days for the check to clear before we can ship your quilt(s). If you use a credit card or Paypal, your quilt will ship the same or next day after receiving the notice of payment.
We pride ourselves on quick, professional service. Our average turn around time is 4 to 6 weeks. If you want to guarantee delivery in less than 4 weeks, please add a expedite fee per quilt, plus you may need to pay for overnight shipping.
Our 'busiest' times are prior to May graduation and the Christmas holidays so it might take a little longer. Be sure to let us know if you have a specific deadline that we need to meet.
* Checks should be payable to "T-Shirt Quilts of Texas".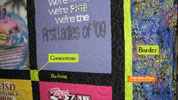 ***Sashing is a colored strip of 100% cotton fabric between each square. It typically coordinates with the backing color you select.
Cornerstones are squares of fabric that are pieced within the sashing and fit in at the corners of the blocks. Cornerstones can be the same color as the sashing, just be sure to note that on the order form. (see the bright green square in the photo at left). Click on photo to see details.
Order Your T-shirt today, call us at 832-559-1190 or send an email with your questions.
For more information about what is involved with buying a tshirt quilt, check out our FREE T-Shirt Quilt Buyers Guide