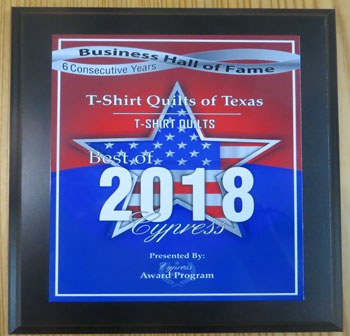 January 2019 - Best of Cypress Awards, 6 year award. Business Hall of Fame, for 6 continuous years of great service!
April 2017 - We are in full swing for graduation and Mothers Day quilts. Lots of Memory quilts being worked on as well. Again, my repeat customers have been getting their shirts in early, and even some of you new guys. Thanks for planning ahead. We are pretty nearly caught up enough that we are back on a 4 or 5 week turnaround. As always, if you have a specific date in mind that you need your quilt(s), just let us know up front.
March 2017 - We are taking a couple of weeks vacation. Hubby and I have been married 40 years on March 19. My special guy who is integral to getting YOUR t-shirts quilts done is taking me on a Viking Ocean Cruise for our anniversary. My brother and his wife are joining us, and we are going to be out of touch for a bit. It is the "Cities of Antiquities" cruise; visiting Rome, Greece and Israel. We are looking forward to this time away, but we will be back in time to get your quilts completed for Graduation, Mothers Day or Fathers Day. Will be checking EMAIL, but the phone thing --- not so much. We will be back March 26, and ready to go again on March 27.
January 2017 - While still pretty busy, we are already getting orders in for graduation. We are preparing to roll out a new updated website in the next month or so. Had a call this week who was wanting to know if there was time before graduation to get a quilt done. She was talking about May 2018!
December 2016 - Oh My! You guys were awesome. MOST of you got your t-shirts in early (before Thanksgiving), giving us time to handle those last minute folks who just discovered us. We had a great year and EVERYONE who needed their quilts before we closed for vacation either picked up their quilts or their quilts were in the mail by December 18th. The earliest we have been finished for the holidays. Have to admit that that was largely due to my husband who started working full time after his retirement in April and to Lori, who does wonderful creative piecing. Again, thanks to everyone for a great and prosperous year.
July 2016 - BACK TO SCHOOL. Yeah, you have heard it. You buy the supplies, the dorm room bedding, rugs and towels. BUT, did you remember the QUILT that your student will absolutely LOVE to have on their bed at college? We are already getting the 'Back To School' orders. Most of the colleges around here start in mid-August. When does your student start school? We can still get a few more in.
Press
June 1, 2016. Oh MY! You all were awesome with getting your orders in early for graduation. Our 'repeat' customers knew to get theirs in early, which gave us plenty of time to get the 'newcomers' quilts done. We really appreciate our repeat customers. We had a record April and May business.
April 2016 - Business is good, and that means that you need to get your shirts in now if you would like to give your quilt as a gift for graduation!
February 2016 - New Lower-price Option! We've had a number of requests for a simpler quilt design that more directly compares to our lower-priced competition. If you prefer that simple look, just specify the "No Border" option for $18/block. Like all of our T-Shirt quilts, the price is all-inclusive. But unlike our competition, you get a full 6" outer sashing around the entire quilt instead of the typical 2 or 3 inches! Please note that the optional accent border is NOT available on this option.
September 2015 - NEW Blog Address. Moved our blog for all things about T-Shirt quilts to our new address http://blog.tshirtquiltstx.com/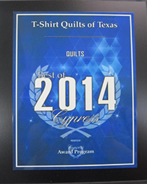 August 2014 - Received Award - BEST OF CYPRESS 2014 for Quilts and Quilting.
March 2014 - Won ribbons on both quilts entered in the Tri-County Quilt Show. Quilts were entered in the Professional quilting and Miniature categories.
Feb 2014 - Received Award - BEST OF CYPRESS 2013 for Quilts and Quilting.
Jan 2014 - Appearance on WFAA ABC Good Morning Dallas
Dec 2013 - Second Appearance on the Local Fox 26 Affiliate.
2013 - Recently featured in COMMUNITY IMPACT, local newspaper for the Cypress, Waller, Hockley areas.
Jan 2011 - Live interview on Fox News Extra. See the video on YouTube.
April 2010 -Featured in the issue of Hempstead Magazine supporting local businesses. Article welcoming new businesses to the STREET OF DREAMS in Cypress Texas.
Call for Information: (832) 559-1190. Thank you for your interest in
T-SHIRT QUILTS OF TEXAS.
**My studio is climate controlled and a non-smoking environment.**