T-Shirt Quilts With A Theme
July 31, 2017
Themed T-Shirt Quilts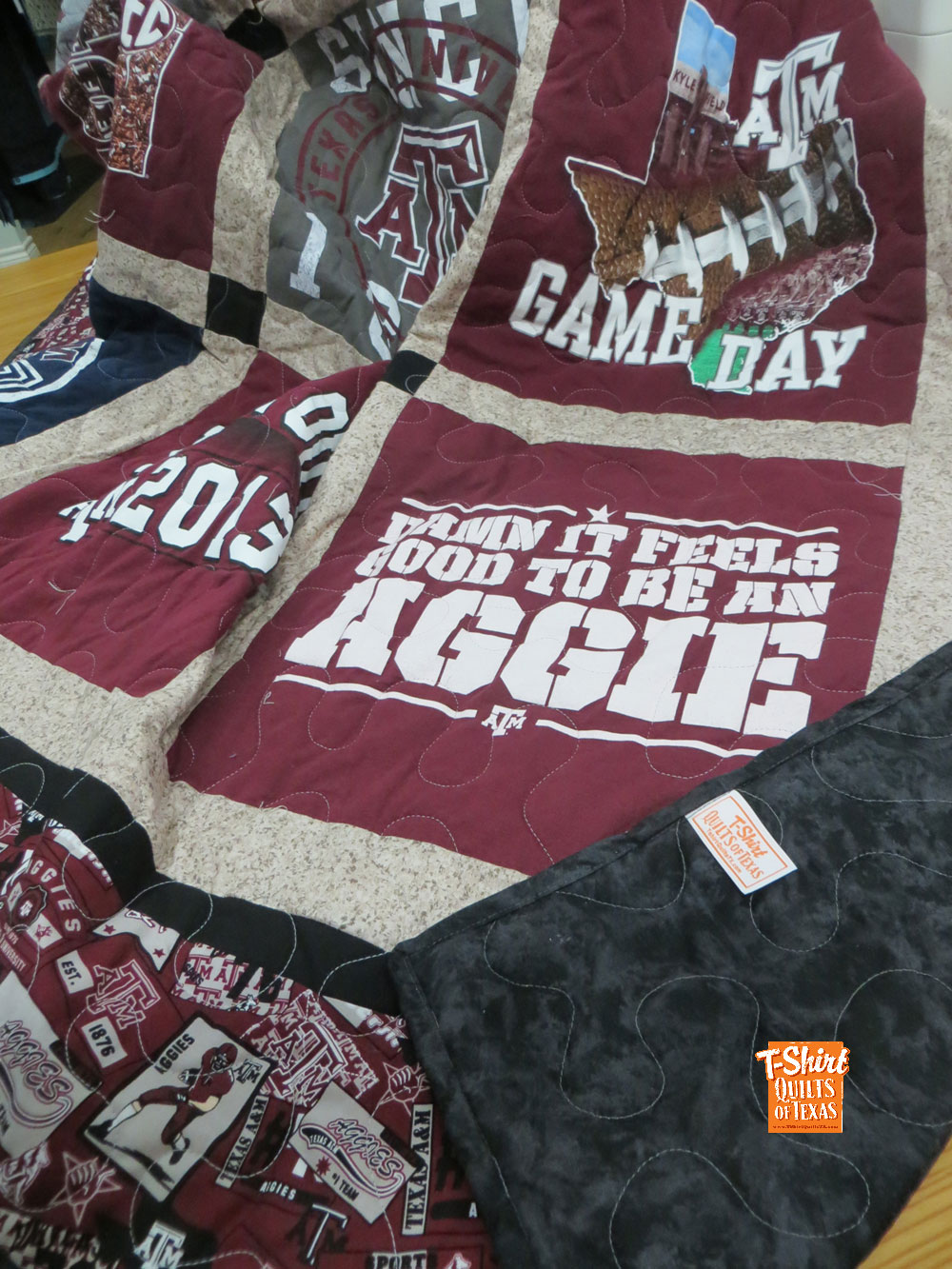 Themed T-Shirt quilts are just that! A collection of tees from your college, favorite vacation spots, favorite bands, Harley-Davidson or even a favorite animal! If you can bear to part with your "Beavis and Butthead" or "Batman" tshirts, then we will be glad to make a one of a kind quilt for you.
We have found that college themed collections are probably what we see most often. Being based in Texas, we have seen our fair share of Texas A&M, University of Texas (UT) and Louisiana State University (LSU) tshirts. (Although, I have to say that the Aggies waaaayyy outnumber the Longhorns! Just sayin')
Collecting
Most everyone has been picking up vacation/travel tshirts, concerts, high school events or where ever your interest takes you. You probably already have lots of tees, and don't need to look for more, but maybe need to pare down the shirts. If you need more shirts to make a larger quilt, there are several methods to obtaining more:
Go check your brother/sisters closet (OK, not really recommending that -LOL)
eBay or other online sellers. If you go to 'the source' such as Disney or your college bookstore, you will probably pay a premium for a new shirt.
Goodwill -Thrift Stores- Hey, for a couple of bucks, you can find someone elses discards. Just throw them in the wash and they will be good as 'used'. *
Garage Sales - You never know what treasure trove you will find. *
Wally World - If your college or High School is local to your area, you can usually get new shirts for less than $10 each.
* If purchasing a used tshirt, be sure to check for holes, stains and wear. Stains around the waistline or a hole on the back does not effect the image on the front!!
Examples of Themed Quilts
This Beatles themed quilt was a great collection of tshirts from a Houston gal that had been collecting since high school. Some of the blocks were even hand painted! What a great quilt!
Whatever your collection of tee shirts consist of, it is YOUR theme! Have a quilt made and preserve those memories. Remember, a t-shirt quilt is the scrapbook you can sleep under.
At T-Shirt Quilts of Texas, we are happy to go through your selection of t-shirts, sweatshirts or whatever, to help you have the most successful t-shirt quilt. Get started now!