So You Want To Make A T-Shirt Quilt!
October 22, 2015
How To Make A T-Shirt Quilt - From an Expert!
While T-Shirt Quilts of Texas would love to make a custom t-shirt quilt for you, sometimes you just gotta do it yourself! We have made thousands of T-Shirt Quilts over the last 10 years, and have pretty much seen the good and the bad in t-shirt quilt making.
You've seen lots of images when doing a Google or Pinterest search. We'll walk you through the basic steps. We have found that keeping it simple usually works best.
Should You Make Your Own T-Shirt Quilt?
Maybe you know just enough about sewing that you want to try it yourself. Great! Here are some things to consider.
Supplies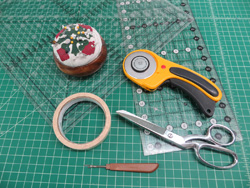 Basic Sewing Supplies -Seam ripper, masking tape, thread, scissors, pins, tape measure and so on.
Sewing Machine. Your sewing machine should be in good working order. Do you know how to sew a consistent 1/4" seam allowance?
Ruler, rotary cutter and mat. You can use scissors, but you need the rotary cutter to get an accurate cut before piecing.
Time. Allow 30 - 60 hours depending on your skill and comfort level. Just know that is there is a time commitment to making a quality t-shirt quilt.
T-Shirts. The more the merrier. But, keep it under control. BIG is heavier and harder to manage.
Fusible Interfacing. This is what makes the t-shirt fabric manageable. Don't skip this step. Whether you or a professional quilter is quilting this, this makes the t-shirt fabric easier to work with. Without it, your quilter has to spend more time making the t-shirt fabric lie flat and even.
Fabric. Amount depends on size of quilt. PLEASE use good quality fabrics. Don't spend all the time creating this quilt using low quality fabrics.
Batting/wadding. This is usually a 80/20 blend of cotton and polyester, or some folks will use a 100% poly. Your choice.
Iron and ironing surface. We use a professional iron press here in the shop, which only takes a couple of seconds per shirt. You will probably have to use a domestic iron. Just follow the product instructions and apply to back of t-shirts.
Plastic Square Ruler. Optional, but very helpful to size your blocks.
Making the Blocks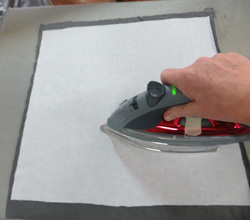 Figure out what you want your quilt to look like. Decide what size block you want the blocks to be. 12 or 15 inch squares are very popular sizes. The square ruler below is a 14.5" square, resulting in a 14" finished square when the quilt top is sewn together.
Cut the tshirts out LARGER than the size you want for the finished block.
Apply the fusible interfacing to the back of block with hot iron.
Trim to desired size (14.5" in this example)
If using Sashings and Cornerstones, cut these now.
If using borders, cut these now.
Creating the Top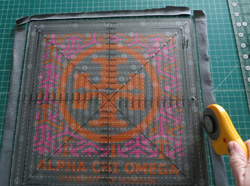 Square up the t-shirt square with plastic ruler and rotary cutter for accuracy.
Lay out the t-shirt pieces into a pleasing design.
If you are using sashing, add that to either left side or the bottom of each t-shirt square except the last on in the row/column.
Sew together.
Add borders if desired. (We get a LOT of t-shirt tops. Many times they have us select the backing and add a border to match the backing).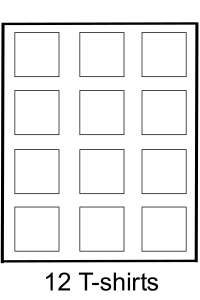 Finishing Up
Quilting. Next,you are going to turn the 'top' into a quilt. A quilt is defined as 3 layers with some sort of stitching holding those layers together. Probably the easiest way to do this is to send that finished top to your longarm quilter. She will probably have batting and backing fabrics available for your convenience.
If budget does not allow for a professional longarm quilter, then you can either quilt it on your machine or alternative method of "tying" the quilt. We don't recommend tying it, as the quilt won't be very stable and won't stand up to laundry over time.
Binding. The last step is binding. That is the step to finish all the raw edges of the quilt. Again, your longarm quilter should be able to take care of that for a reasonable charge.
There you have it. T-Shirt quilts in a nutshell.

T-Shirt Quilts of Texas is a full service professional business that can help you complete your quilt at most any stage. We also 'fix' quilts made by non-professionals. If you get started, and don't feel you are going to be able to complete your quilt. Take pictures of your quilt in process, email it to us, and we can let you know if we can help you get it finished.